Home | Programs
| Individual Creativity | Ohio Heritage Fellowships | 2003 Heritage Fellowships
2003 Ohio Heritage Fellowship Recipients
Material Culture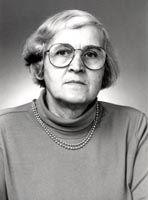 Aka Bohumyla Pereyma of Troy is the Ohio Heritage Fellow for Material Culture. Her work is of the highest significance within Ohio and Midwestern Ukrainian communities for which she has long served as a "living cultural treasure." She also works with Ukrainian communities throughout the United States and in Ukraine. She has served as a creative repository of the visual symbolism of Ukranian culture, much of which was lost earlier in the 20th century. Her work in the Ukrainian pysanky decorated egg tradition is of the highest quality to be found anywhere in the world. Her ceramic work is unique in that it extends the familiar religious and secular symbolism of the pysanky tradition to a new medium. Pereyma's work has been shown in art galleries and museums in the United States, Canada and Ukraine. She and her sister were in a traditional crafts exhibition organized by the Smithsonian Office of Folklife Programs. Many of her works are currently on long-term loan to the state museum of Ukraine and two books documenting her artistic career are in preparation. She was awarded the "Outstanding Ukrainian Artist" medal in October 2001. Pereyma enriches the lives of her community members and other Ohioans through her efforts to preserve and share Ukrainian arts in the state.
Performing Arts

Tony Ellis of Circleville is a banjo player of astounding skill and innovation and a legend among people who know bluegrass and old-time country music. He has composed more than 80 works and received 11 awards from the American Society of Composers and Publishers. Ellis has been an integral part of several influential bluegrass bands and in recent years composed, recorded and performed new musical works for the banjo that are influencing musicians in many folk traditions. Tony's Ohio roots and contributions to traditional arts are strong. He has participated as a master artist in several Ohio Arts Council funded traditional arts apprenticeships and represented Ohio folk music in several international tours, including one produced by the Ohio Arts Council. As an artist, Ellis helps to support and conserve traditional music in the state, especially southern Ohio, and he has developed a grassroots organization in Pickaway County that presents fine traditional musicians from around the world. In recent years, Ellis has again taken up an extensive touring schedule, performing and lecturing at numerous colleges, universities and folk and music festivals throughout the country, Japan, Latin America, Australia, New Zealand, England, Scotland, Wales and Ireland. No matter the setting, Ellis always exemplifies the finest qualities of traditional music, respectful of the limits of the traditions, but possessing a dynamic creativity that pushes the boundaries.
Community Leadership

Carolyn Mazloomi of West Chester, Ohio is a strong and effective advocate for the entire community of African American quilters, who share three traditions: quilting, ethnicity and descent from slaves. In 1986, she established the Women of Color Quilters Network which began with 10 members and now has more than 1,800 nationwide and 4,350 members in 23 chapters outside the United States. Mazloomi has brought African American quilters together and raised their awareness of each other and their strong talents. Through her work she has also made quilters of other ethnic backgrounds and museum attendees aware of the Women of Color Quilters Network quilters and their creations. Mazloomi makes beautiful quilts that are incredibly powerful and are regularly exhibited in galleries. She teaches African American history through her "story quilts," which are cultural documents that vividly depict the African American life. Her 1998 book, Spirits of the Cloth: Contemporary African American Quilts effectively counters public stereotypes about African American quilt styles. In addition, she lectures, establishes quilt exhibitions and helps quilt researchers throughout the United States.
[top]