Home | Programs
| Individual Creativity | Ohio Heritage Fellowships
Ohio Heritage Fellowships
The Ohio Heritage Fellowship program recognizes Ohio folk and traditional artists who are the finest and most influential masters of their particular art forms and traditions and whose work in the folk and traditional arts have had a significant impact on the people and communities of the state. Awards are given in three categories: Performing Arts, Material Culture (folk art, folk crafts, folk architecture) and Community Leadership. The OAC expects awardees to adhere to cultural artistic traditions and work in order to maintain the aesthetics and preservation of their art form, in the process contributing to the public visibility of the folk and traditional arts; be actively participating in their art form as a practitioner, a mentor, teacher or community leader; and be creating work of depth and brilliance that deepens our awareness of the rich and diverse cultural and artistic traditions of the people of Ohio.
Each year, the Ohio Arts Council will award one Ohio Heritage Fellowship to an individual or group whose work in the folk arts has had a significant impact on the people and communities of the state. The folk and traditional arts grow out of particular cultures and are recognized as the artistic expressions of ethnic, linguistic, occupational or regional groups. The recipient will receive a commemorative plaque plus a $5,000 award at a public award ceremony.
The yearly deadline for nomination is January 15. Please read our updated Guidelines that will help you when making your nomination. They can be found at: http://www.oac.state.oh.us/grantsprogs/guidelines/guide_other.asp
To nominate a folk artist or group or outstanding community leader in the traditional arts for the Ohio Heritage Fellowships please use the Web-based online application form at www.oac.state.oh.us/Search/OhioHeritageFellowships/SearchFellowshipNominations.asp. You can search the list of previous nominees on this page. Nominations are reviewed by a panel of experts in the folk and traditional arts. Awards will be announced in the fall. Self-nomination is not permitted. Nominees must be Ohio residents.
2013 Heritage Fellowship Recipients
Performing Arts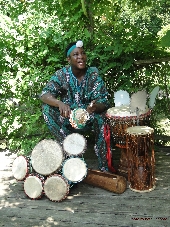 Sogbety Diomande Ohio Heritage Fellowship Information
West African drummer and performer Sogbety Diomande is receiving a 2013 Ohio Heritage Fellowship for Performing Arts. A drummer and dancer from the Ivory Coast of West Africa, Diomande has brought his native art form to the rural community of Mansfield, Ohio. He shares his art form through artist residencies in schools, universities, correctional facilities and local festivals. Additionally has a loyal following at his weekly drum circles. He is an active member in civic events in the Mansfield area providing ethnic diversity and culture to the community. He uses his art form to raise awareness of the need to respect and honor human diversity in hopes that the knowledge gained by participants will lead to the desire to learn more about African cultures and other ethnic groups. He is on the roster of the Greater Columbus Arts Councilís Artist-in-Schools program, Young Audiences of Northeast Ohio and Daytonís Muse Machine and is a former master artist through the Ohio Arts Council's traditional arts apprenticeship program.







Performing Arts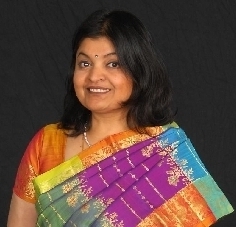 Anupama Mirle Ohio Heritage Fellowship Information
An Indian dancer and choreographer she learned her art form from masters starting at the age of six while growing up in India. Mirle came to the U.S. in 1990 and has been involved in performing and teaching Bharatha Natyam to students of all ethnic groups. She received two nominations in 2013, one, in-state and one, out-of-state. To have two nominations in one year speaks to her local and national presence within the Indian culture. Her nominator spoke to how "she nurtures the eternal values of Indian art in a secular way". Additionally as an Ohio Arts Council Traditional Arts Apprenticeship Master artist she has successfully passed on her art form to a number of apprentices including her son Vikrant Mirle. Along with teaching and performing she organizes dance events and cultural festivals with nationally and internationally acclaimed artists. She has greatly added to the cultural diversity of the Greater Cincinnati communities









Past Heritage Fellowship Recipients

2012 Heritage Fellowships

2011 Heritage Fellowships

2010 Heritage Fellowships

2009 Heritage Fellowships

2008 Heritage Fellowships

2007 Heritage Fellowships

2006 Heritage Fellowships

2005 Heritage Fellowships

2004 Heritage Fellowships

2003 Heritage Fellowships


[top]