The Ohio Arts Council's Riffe Gallery
The gallery will be closed January 10 through Janaury 27 for the Go Figure exhibition installation.
COMING SOON:
Go Figure
January 28–March 23, 2016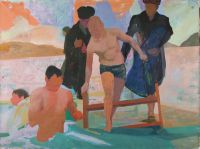 Emil Robinson, "Polar Bear Club 3," 70" X 90, 2014, Oil on linen.
Curated by Ohio University Dean Emeritus Charles McWeeny, Go Figure, the first exhibition of 2016 in the Ohio Arts Council's (OAC) Riffe Gallery, will be on view from January 28-March 23, 2016.
Go Figure showcases 13 Ohio artists' explorations of the human form as a narrative vessel. From surreal to hyper-real, this exhibition tells profound stories about what it means to be human.
FEATURED ARTISTS
| | |
| --- | --- |
| Juliellen Byrne | Columbus |
| Isabel Farnsworth | Kent |
| Clotilde Jiménez | Cleveland Heights |
| James Oberschlake | Ripley |
| Frank Oriti | Cleveland |
| Emil Robinson | Cincinnati |
| Laura Sanders | Columbus |
| John Sousa | Springboro |
| Gregory Spaid | Gambier |
| Ed Valentine | Delaware |
| Art Werger | Athens |
| Pheoris West | Columbus |
| Jaymi Zents | Chesterland |
EVENTS
Opening Reception | Thursday, January 28, 5-7 p.m.
Mingle with the artists, exhibition curator, and other art enthusiasts at the public opening reception.
Curator's Tour | Friday, January 29, 12-1 p.m.
Ohio University Dean Emeritus and ceramic artist Charles McWeeny will give an in depth tour discussing topics from artists inspirations to his personal thoughts on the figure.
Open Figure Drawing | Wednesdays, February 3-March 23, 11 a.m.-1 p.m.
Columbus-based artist Mary Jane Ward will lead fun, free, informal explorations of the human figure through drawing. Open to all levels of experience! Check out a class during your lunch break, engage in all eight sessions, or simply observe the artistic process in action. Supplies, including easels and pencils, as well as a live model will be provided free of charge. Registration is not required; space is limited to 10 participants on a first come, first served basis.
Handwritten Love Writing Workshop | Thursday, February 11, 5:30-8:30 p.m.
Create a Valentine in poetry for a special "figure" in your life with OAC Artist in Residence Amy Greenberg. Art supplies will be on hand to adorn your prose. Register in advance January 29-February 9.
Stop-Motion Goes Mobile Family Workshop | Saturday, February 20, 2-4 p.m.
Construct a miniature theatre set to serve as the background for stop-motion short animated videos. OAC Artist in Residence Kate Stenger will lead participants through using the free app Vine. Bring your imagination, storytelling skills, and smart phone or tablet. This workshop is geared toward children ages 6 and up. All children must be accompanied by registered adult. Register in advance January 29-February 16.
Riffe Gallery admission, events, and programming are free and open to the public.
Go Figure is produced by the OAC's Riffe Gallery. Media support is provided by CD102.5, CityScene, Ohio Channel, WOSU, Ohio Magazine, and WCBE 90.5 FM.
---
UPCOMING EXHIBITIONS:
Artists of the Winding Road A-Z
April 7-April 23, 2016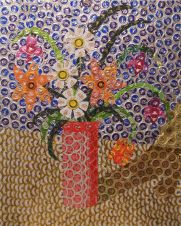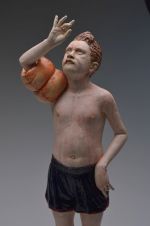 L to R: John Taylor-Lehman, Flowers in Red and White Vase; Kelsey Duncan, Convalesce 2 (detail); Paul Emory, The Bottle Yard.
State-backed organizations and knowledgeable community leaders are guiding Appalachian Ohio municipalities to civic recovery and renovation through the arts. Revealing the artists behind the revival, OAC's Riffe Gallery spotlights several of southeastern Ohio's most outstanding artists, from painters to ceramicists to found object sculptors.
FEATURED ARTISTS
Alan Cottrill | Zanesville
Kelsey Duncan | Athens
Paul Emory | Zanesville
Brad Schwieger | Athens
Michael R. Seiler | Zanesville
Yan Sun | New Concord
John Taylor-Lehman | Zanesville
---
About the Riffe Gallery
The Ohio Arts Council's Riffe Gallery, established March 17, 1989, showcases the work of Ohio's artists and the collections of the state's museums and galleries. The Riffe Gallery is located in the Vern Riffe Center for the Government and the Arts, across from the Statehouse on High Street in Downtown Columbus. Please note: we do not accept proposals from individual artists. If you are interested in learning more about our exhibition process, e-mail Mary Gray, gallery director.
Visiting the Gallery

Admission is free.


HOURS:
Mon, Tues, Wed & Fri 10:00 a.m.–6:00 p.m.
Thurs 10:00 a.m.–8:00 p.m.
Sat 11:00 a.m.–4:00 p.m.
Closed Sundays and state holidays.

LOCATION:
Vern Riffe Center for Government & the Arts
77 S. High Street, First Floor Lobby
Columbus, OH 43215
Directions/Parking



CONTACT:
Phone: 614-644-9624
TTY/TDD use Ohio Relay Service: 800-750-0750
Email us at: RiffeGallery@oac.state.oh.us


ENGAGE:
Would you like to be on our e-mail list? We will send out announcements about upcoming Riffe Gallery exhibitions and events. Easy online sign up!

SpotlightRiffeGallery.org is a website produced in partnership with The Ohio Channel to showcase images, videos, and artist interviews from current and past Riffe Gallery exhibitions.


Media Sponsors:

[top]