OHIO ARTISTS
ON TOUR
DANCE
MULTIDISCIPLINARY
MUSIC - CHORAL
MUSIC - DUOS
& SOLOISTS
MUSIC - ENSEMBLES
MUSIC - JAZZ
MUSIC - OPERA
MUSIC - ORCHESTRA
MUSIC - TRADITIONAL
THEATRE
Artist Search

Ohio Artists on Tour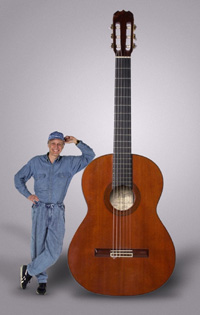 Guitarist Jim McCutcheon has entertained and educated audiences of all ages for thirty years in venues ranging from concert stages to preschools.

Having received Kennedy Center training, Jim brings to school assemblies and residencies an understanding of arts integration packaged in unique, interactive programs for kids of all ages. Based on the electric guitar, Jim's ''Science of Music'' workshops use both his music degrees and his B.S. in physics to stimulate interest in science through the arts and to address state and national standards in ways unavailable to most teachers.

Programs for arts series and community concerts include a wide variety of music ranging from classical guitar to ragtime to blues to popular and original works, as well as a lifetime of stories which educate and enlighten audiences about the music.