Artist Search
RESIDENCY ARTISTS
Creative Writing
Dance
Design
Media
Music
Theatre
Traditional Arts
Visual Arts
VISITING ARTISTS
Creative Writing
Dance"
Design
Media
Music
Theatre
Traditional Arts
Visual Arts
Artist Search

AIE Directory
Residency Artist - Visual Arts
Residency Artist - Visual Arts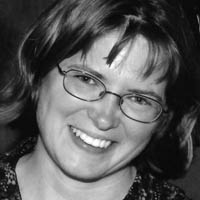 Amy Rich
429 Adams Avenue
Evansville, IN 47713
Phone: (812) 602-5472
Emails: Amy.ec.rich@gmail.com
Website: www.AmyRich.org

I am a visual artist who works primarily with fabrics and found objects. I have a background in sculpture but also draw from a childhood spent making things with scraps from my mom's sewing projects. I love to share this joy of creation with my students, especially by building things that use fabric as a simple, versatile, and forgiving material. Through my residencies, I hope to provide my students with a personal connection between themselves, their materials, traditional arts, and contemporary fine art. Residency projects could range from quilts or figurative sculptures to other forms of fiber-based sculpture and could include group projects or individual pieces. I am interested in both school- and community-based residencies and enjoy working with any range of ages from preschoolers through adults. My ideas are adaptable to the needs and interests of the individual site and can tie into school curriculums and academic content standards. In one recent project, students created small, non-traditional quilts. In another, students designed their own fabric then used it to create figurative sculptures.

Much of my art takes the form of quilt-like wall hangings and doll-like figures. I create these sculptures from fabric and objects that I collect from thrift stores, auctions, yard sales, attics, closets, gutters, and nature. These materials carry with them memories of what they once were, where they have come from, and who has touched them. My processes have links to quilting, embroidery, clothing construction, and doll making but extend these techniques in new directions. My art is a way to bring together traces of people, including myself, in an effort to sort through what's been left behind, to visualize the complexities of life, and to find new stories to share.

I received a BA in studio art and English (with a writing concentration) from Kenyon College in 1997. Since then, I have worked as an artist in residence and teaching artist for several different organizations where I've learned from and have been inspired by my students. I continue to create art and exhibit it nationally. In 2006 I received a MA in art education from the University of Cincinnati. I've received arts grants from the Indiana Arts Commission and the Arts Commission of Greater Toledo.