Artist Search
RESIDENCY ARTISTS
Creative Writing
Dance
Design
Media
Music
Theatre
Traditional Arts
Visual Arts
VISITING ARTISTS
Creative Writing
Dance"
Design
Media
Music
Theatre
Traditional Arts
Visual Arts
Artist Search

AIE Directory
Residency Artist - Visual Arts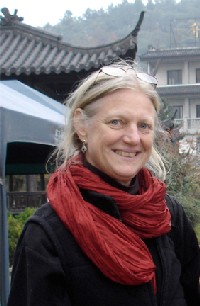 Ann Corley Silverman
2683 Wellesley Rd.
Columbus, OH 43209
Phone: (614) 592-5896
Emails: tinporchpaper@hotmail.com

I am an artist whose creative medium is handmade paper. The interaction of plant fibers and water to form a unique surface is an accessible magic captured in an ordinary product. Nature and natural processes can be engaged at almost every level, from plant fiber collection, cooking, and beating, to water addition and subtraction. For the budding scientist, experiencing the essential role of water in the formation of something so dry provides a window into a natural bonding process. For the sensualist, there is the simple pleasure of plunging hands in water, stirring floating fibers and then watching them settle onto a screen. I have worked with students on large collaborative papers, either as hangings or in folding screens, or simple books with Japanese stab bindings. Papermaking is endlessly adaptive to curricular needs. My primary goal is to expose the student to a physical process with deep associations to many artistic and cultural products. I bring with me tales and tools of papermaking in Asia and all the equipment necessary to produce paper in the classroom.

My current work has been focused on the construction of a dedicated papermaking studio from which I can experiment with local plant fibers, as well as personal recycled material. Some of my recent work was done in collaboration with honey bees as they lived in a hollow paper structure or built upon paper and knitting. Recurring motifs that appear throughout my work have to do with knitting, weaving, handwriting, wood, rock, and hollow spaces.

I began making paper in 1992 at the Columbus Cultural Arts Center. I continued in-depth studies at Carriage House Paper Mill in Brooklyn, NY, The Penland School in North Carolina, and The Women's Studio Workshop in upstate New York. I completed an MFA in Printmaking in 2003 at The Ohio State University, which included a semester at the Center for Paper and the Book at the University of Iowa. I have had solo shows in New York, Ohio, and North Carolina, and have exhibited both locally and nationally.