Residency Artist - Music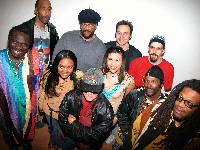 One World Tribe
Kennedy Thompson
5333 Washington Avenue
Erie, PA 16509
Phone: (412) 877-4224
Email: Oneworldtribeband@Gmail.com
Website: www.oneworldtribe.com

One World Tribe (OWT) is a world music ensemble, consisting of musicians and dancers from many different countries and disciplines. Our goal is to fill the hearts and minds of people everywhere with an appreciation of the powerful ethnic and cultural music from a multitude of countries. The group's residency work is aimed at students ranging from elementary thru high school. Residencies provide insight into the music, dances, languages and cultural traditions of West Africa and the Caribbean supporting subjects such as Math, History, Geography, Language Arts and Social Studies. In a recent successful residency, students learning several Senegalese Dances and Songs and then successfully integrated those pieces into a African tale or fable. They created a re-enactment by using knowledge learned to bring that story or tale to life. Students are encouraged to use their own creativity wherever possible.

Currently OWT is exploring the possibilities of combining elements of hip hop and rap with traditional music of the West African diaspora via performances, workshops and recording of original music. Recently we released a new recording which demonstrates this effort. We hope that through this exploration we can inspire a new generation of urban youth to expand the rhythmic language of hip hop beyond it's present state and provide a bridge to connect African-American youth to their African Heritage.

OWT is composed of members who have gained knowledge in the world of academia. Others have learned the traditions of many folkloric forms through the passing of that knowledge from the griots of West African traditions as well as extensive travel and study throughout the Caribbean. Many are renowned teachers in our respective disciplines. OWT has been awarded Best World Music Group for 2001 and 2002 Buffalo Music Awards as well as Best Overall Group 2007 Erie Music Awards. Our song "Unity and Diversity" also won Best World Music Song for the 1998 John Lennon Songwriters' Competition. One World Tribe is a member of the Pennsylvania Artist on Tour program.