Residency Artist - Music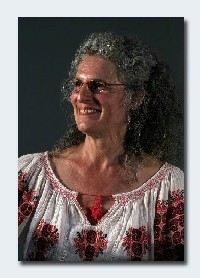 Terry L. Boyarsky
3003 Euclid Heights Blvd
Cleveland Heights, OH 44118-4020
Phone: (216) 932-5825
Fax: (216) 932-9266
Email: tboyarsky@ameritech.net
Website: www.TerryBoyarsky.wordpress.com

I am a pianist, movement specialist, singer and ethnomusicologist. Ever since I was little I searched for musical collaboration. Chamber music, choral singing, and folk dance are living metaphors of community. I am as delighted to sing in choruses as I am to lead others in song. I am a spontaneous musician, creating rhythms, music and dance with everyday objects and sounds, and I encourage others to discover their own. For me, music and movement are inseparable and offer endless possibilities. I enjoy sharing my passion by performing chamber music, coaching, giving master classes, accompanying dance, and creating ceremony.

Every person is musical. I have endless enthusiasm for encouraging people to find their own music - within and without. We use our natural instruments - the body and the voice. We play with rhythm, song, dance, world music, rounds, toning, and body percussion to learn the details and structures of music, to listen in a new way. I build my residencies collaboratively around a particular theme, tradition, or culture.

I have played piano, sung and danced all my life. I have performed with musicians from the Cleveland Orchestra,sing with the Blossom Festival Chorus and am a Teaching Artist with Young Audiences of Northeast Ohio. Currently I am touring and concertizing with a Siberian Balalaika virtuoso as "Russian Duo." I have a bachelor's degree in psychology from Reed College, a BA in Eurhythmics from the Cleveland Institute of Music, and a Master's in Ethnomusicology from Kent State. I present workshops on arts integration and Dalcroze Eurhythmics nationally, and I have taught children, disadvantaged youth, amateur adults, the learning disabled, educators, and conservatory students around the world.

Additional information is available at www.RussianDuo.com.