Residency Artist - Music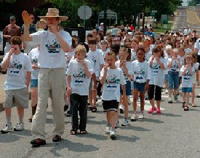 Hal Walker
131 S. Chestnut St.
Kent, OH 44240-3401
Phone: (330) 554-5950
Email: halwalker@mac.com
Website: www.halwalkermusic.com

I am a singer, songwriter, multi-instrumentalist and choral director. My particular focus is "Music that Fits in Your Pocket." In a residency experience, I bring a musical breath of fresh air into the environment and I put musical skills into the pockets of the community. I offer an inviting force that celebrates the music that lives within every person. A residency experience with me is multi-dimensional and integrates multiple disciplines. I've developed an effective method of large group harmonica instruction, I offer an integrated experience in making African "banakulas," I work collaboratively with students writing songs as gifts to the community and I lead a rhythmical "stick dance" with an emphasis on math and cooperation. All the while, I demonstrate effective classroom management skills. In my work as an artist-in-residence, I've had the unique opportunity to provide large numbers of students with a foundation for a lifetime of musical expression. Affectionately known as Ohio's modern-day pied piper, my work brings music into the daily lives of all ages.

I make my living as a working musician. I live in a house full of musical instruments and two Macintosh computers. I'm the director of music at the Unitarian-Universalist church of Kent and I'm the resident composer for the Summit Children's Choir. For 6 years, I've been the resident musician for the Wick poetry department at Kent State University. As the spirit moves, I write songs, I improvise on musical instruments from around the world and I collaborate with other artists. Currently, I am developing instructional media of my method for teaching the harmonica and the "banakulas." (see www.banakula.com)

I am a natural born, self-trained musician with a gift and a passion for engaging children in music. I began with 10 years of piano lessons as a child. At Northwestern University, I learned to play the harmonica in parking garages and subway stations around Chicago as I earned my degree in history. At the age of 18, I bought my first guitar and wrote my first song. I spent the next 25 years writing songs about life and developing original styles on the piano, the jew's harp, the khaen, the harmonica, the concertina and the ancient hand-whistle. My professional highlights have been my collaborations with great Ohio arts organizations, such as the Groundworks Dance Theater, the Mad River Theater Works and the Summit Choral Society.