Residency Artist - Creative Writing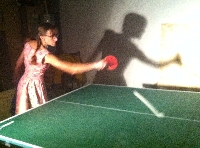 Nancy Kangas
304 Wyandotte Ave
Columbus, OH 43202
Phone: (614) 506-9131
Email: nancykangas@gmail.com

Writing is thinking. When I practice writing -- whether it is poetry or comedy, the two forms I write most often -- I am strengthening my skills of observation and reasoning. In the residencies and workshops I lead I aim to engage others in the rambunctious process of writing -- from the often difficult beginnings of trying to pick apart a knot of something intriguing or troubling, through the white-water-rafting thrill of rough draft writing, to the intense play of revision, in which we fatten up, trim down, and turn our work inside out until it rings true. Because I believe exposure to excellent writing gives us inspiration and direction, I share a wide range of writing, created by young as well as experienced artists. I want us all to feel the impact of a metaphor and the necessity of strong imagery. I truly believe an arts residency can not only satisfy academic content standards, but address them gracefully and meaningfully.

In addition to writing short humor pieces for Muse, a magazine in the Cricket family for ages 9 to 14, I am writing poems for adults as well as for children, playing with a variety of forms including haiku. For nearly a year I have been posting daily haikus on Twitter, which has been a great way to keep myself writing and play with social media. I seem to write a lot about dirt, family, and hope (not necessarily all at once). I am also compiling an anthology of "launch poems" to help others teach poetry; this will include poems that are not only awesome, but also accessible and contain within them a suggestion of how to begin. I love what happens when poetry meets other media: I produce booklets and cards with my poems and drawings and perform poetry-theater pieces. Several years ago, I began studying the art of improv (in Columbus and in Chicago at Second City) and am a member of the troupe "Not From Concentrate."

My poetry has been featured in print and online publications including Exquisite Corpse, Cap City Poets, and Spider. My researched feature articles and stories have also appeared in Muse, as well as in Owl, Nickelodeon, and Columbus Monthly. For over a decade I edited Nancy's Magazine, an internationally distributed, critically praised variety magazine. I have performed throughout the state, most recently as the first-place-winning poet at the 2011 Columbus Arts Festival. I have a Master of Library Science degree and work part-time as a librarian at Columbus Metropolitan Library, where I help customers of all ages find what they need in print and beyond.